Live Elections & Polls

____________________________________________
The Colorado GOP hosted their annual fundraiser in November. A straw poll was conducted using EIP at the event. Here are the details, you may have seen it in the news: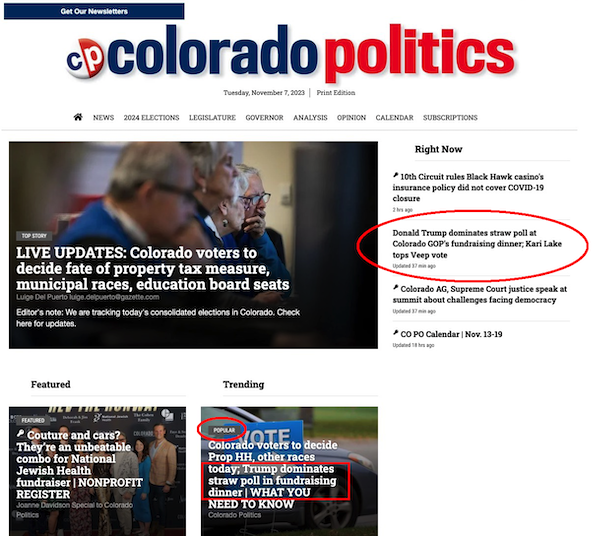 and on social media:


We were honored to be chosen and entrusted with facilitating this poll. Looking forward to helping the Democrat party use the same technology. Please contact us to see how we can help facilitate elections and polls of any kind for any political party!
Speaking Engagements

____________________________________________
> Colorado Springs, CO
*** Live Election! ***
Tuesday, August 22, 2023
6:30 to 8:30 PM


> Colorado Springs, CO
Saturday, February 4, 2023
6:30 to 8:30 PM
Inquire for directions

> Boulder, CO
Saturday, January 28 1:00 PM
Boulder County Republican HQ
425 S Bowen #1
Longmont, CO 80501


EIP Education

____________________________________________
> A prestigious university will be implementing EIP as a Capstone Course in the Fall of 2023
This course will teach student how to build their own EIP Systems and Network Nodes using Blockchain technology


Mock Elections

____________________________________________
> Here Now!!

To start out, we are holding mock elections to test out the system. Navigate to the "Demo" page to participate.


- Play around with EIP

We are now conducting an EIP election voting for "The Best Ice Cream in the World". See "Mock Elections" above


- Schedule your own election

Who will be the Homecoming Queen at the Senior Prom? And who should be Class President? Who should run the Homeowner's Association? Who should be captain of the team? What policies should be in place for the upcoming real elections? Let us help you set up your own election
- Participate in a live mock election
Register in person to participate in a public beta test of an EIP election. We will gather say 100 people at a public location such as a library and perform a live election. Contact us for details

- EIP Poll

If you could track your vote and be guaranteed that it was accurate, would you be willing to vote in person and forgo the convenience of mail-in ballot voting (which fails the test of even the most basic secret ballot election)?
Legislation

____________________________________________

> Proposed Bill:
https://leg.colorado.gov/bills/hb23-1170

> Committee Hearing (public testimony encouraged)
Denver Capital Building
February 27, 2023
1:30 PM MST
Online Sessions

____________________________________________

> Invitation Only (Sign Up on this web site)